Home
News, and the latest updates.
Archives
Stories from the past...
Submit News
Got a item of interest? Here's the place to go.
Feedback
Your opinion always counts on how we can make GameSurge even better.
Mailbag
Comments on our features, by you, the viewers.

Hardware
Tweaks, reviews and a handy driver index highlight our newest section
Reviews
Looking to buy one of the hottest games? We have it covered.
Previews
Get a advanced look at the games of tomorrow.
Interviews
Find out more about the people behind your favorite game.
Strategy
Need Help? We have a very large selection of walkthroughs now up.
Gallery
A special section featuring the best in artwork and images.

Editorials
The written word, by staff and viewers.
Game Guy
A bi-monthly column contributed by Mark H Walker, an independant writer in the Gaming community.
Gallery
Pictures from around the web.
Hosting
Our current hosting plans and features.
Site Information
Who we are, what we do, our policies and job positions.

Strategy Index Guide
The resource for the best articles for the best games. Now with support over 55 games
Strategy Menu
N64

PlayStation
The Sony PlayStation, and beyond...
Nintendo 64
Currently Down.
Dreamcast
The Dreamcast resource, and more. Home of the DC Technical pages.



At Gamesurge, we will be featuring a large amount of gallery pages for all games, and all the major systems. Keep checking back here for the latest additions. GameSurge has support for all systems, whether it's Arcade, Console, or Computer games. This main gallery page keeps you up to date on the newest images, screenshots, wallpapers, and artwork for your favorite games. Check back here often for the latest updates.


Dreamcast Gallery

We at GameSurge are just starting our Dreamcast section, and like other sections, we have produced a Gallery archive of the artwork, screenshots and images of the games we support here.

With galleries for over 15 popular Dreamcast games, and a large collection of Hardware images, our newest gallery section is a great place for those hard to find images, all in one convenient place. Check out this young, but growing collection.


Eternal Arcadia

Of all the upcoming Dreamcast releases, the one getting the most attention from Role Playing Gamers is Eternal Arcadia. With a fine blend of gameplay, a interesting unique storyline, and visually stunning graphics, Eternal Arcadia looks to be a big hit before it even is released!

Find out more in this very , small collection of preview screenshots of what the fuss is really about and why Eternal Arcadia will be such a big hit.


Sega GT

The major new racer release coming from Sega looks to be living up to it's hype. Boasting loads of new features, lots of tracks, and cars, cars, cars, this is shaping up to be one whale of a game.

A lot of people have labeled this game the "Gran Turismo" killer, and we at GameSurge just had to find out for ourselves, so we put together a large collection of screenshots. Why don't you find out for yourself?


Computer Galleries

GameSurge has started a extensive gallery section for Computer games. With a selection of multiple games found in the gallery section, you will find screenshots, images, and artwork for some of the hottest computer games out there.




Latest Galleries
No One Lives Forever 2


The new Jupiter system shows it's power in the upcoming game NOLF2. Jupiter delivers an even broader range of features including a new polygrid system that supports dynamic lighting, Fresnel reflections and dynamic surface animations as well as the addition of cubic environment mapping. Other new features include an improved command editor to more easily create cinematic events and more robust support for dynamic texture effects.

Trainz


This unique software is great for model railroaders as well as any train sim fan! Build your own layouts, collect your own trains and ride them too!

Clusterball


The Game-play combines elements of high-speed air racing with true dog fighting and a great tactical challenge. Amazing 3D graphics and positional sound effects together with very authentic physics create the perfect setting. The intense matches take place in astonishing landscapes inspired by famous locations around the globe.

Disciples 2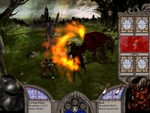 Disciples II: Dark Prophecy returns you to the magical realm of the Sacred Lands where four races the Empire, the Mountain Clans, the Legions of the Damned and the Undead Hordes continue the battle for the destiny of their Gods. The struggle to bring order to a tormented world continues with a new and evolving story. Showcasing new graphics, supporting 800 x 600 16-bit resolution, over 200 engaging characters will come to life in an epic battle. With enhanced gameplay mechanics, improved AI, and an upgraded battle system, Disciples II: Dark Prophecy promises to provide the answer to the ultimate question - Who among them will survive

Steel Soldiers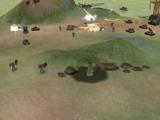 Bitmap Brothers are working on this extremely nice looking strategy game. The screenshots make me want to cry (taken on a GeForce 3)

World War III

JoWood Software is set to release this state of the art RTS sometime in early 2001. It looks great!

WarCraft 3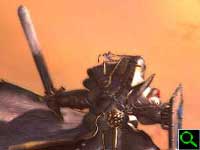 Blizzard is set to release WarCraft 3, the next in the line of the widely successful Real Time Strategy game, sometime in the year 2001.

We have some new E3 2001 pictures for you to look at. We are constantly updating this section as more pictures are released.



Arcade Gallery

Crusin' Exotica
Crusin' Exotica is a really nice looking game. There's some great images to be found in our gallery section for one of the better arcade game racers out there.

Produced and released by Midway Games in 1999, this game has home console versions slated to be released in the fall of 2000. The section is a little small for images and screenshots, but it's growing, so before you put that dollar in, check out the latest addition to our arcade gallery section featuring this awesome new racer.


Gauntlet Dark Legacy
The latest in a series of games based on the classic arcade game, Gauntlet, and this may be the nicest looking one so far. With the "3D" style taken from, and greatly improved from the previous Gauntlet Legends, makes this game one of the nicest looking arcade games in quite a while. Add the addition of some real nice character animation, and considerably better backgrounds used in this game, (especially in comparison to previous versions) this game sure is pretty to play, and to watch as a bystander.

Why not checkout our latest batch of images for yourself?


Pinball Galleries

GameSurge now has seperate galleries full of artwork, screenshots, and pictures for the latest arcade Pinball Machines. We are always looking to add more to our massive archive, so check back here to this page for the latest updates and additions.

The latest addition is the Striker Xtreme Pinball Gallery, the latest Pinball to be released to the arcades, produced by Stern Pinball. This soccer themed game has some real nifty toys, including a goal keeper guarding a "net", and is well worth checking out.


More coming soon
As we continue to expand our Gallery sections, we will be adding galleries of game images and artwork based from our reviews, previews and other special features. Keep checking this page for the latest updates, or check our main Gallery page, which previews all the latest for all of our gallery sections, whether console, computers, or arcade games. We are building one of the largest archives for ALL Games on the web today.

We are always interested in submissions of screenshots, fan artwork, and pictures. You can submit your artwork to the webmaster by email to shiva@gamesurge.com or Falcon@gamesurge.com.
An affordable, ultra-portable headphone set.

more