Home
News, and the latest updates.
Archives
Stories from the past...
Submit News
Got a item of interest? Here's the place to go.
Feedback
Your opinion always counts on how we can make GameSurge even better.
Mailbag
Comments on our features, by you, the viewers.

Hardware
Tweaks, reviews and a handy driver index highlight our newest section
Reviews
Looking to buy one of the hottest games? We have it covered.
Previews
Get a advanced look at the games of tomorrow.
Interviews
Find out more about the people behind your favorite game.
Strategy
Need Help? We have a very large selection of walkthroughs now up.
Gallery
A special section featuring the best in artwork and images.

Editorials
The written word, by staff and viewers.
Game Guy
A bi-monthly column contributed by Mark H Walker, an independant writer in the Gaming community.
Gallery
Pictures from around the web.
Hosting
Our current hosting plans and features.
Site Information
Who we are, what we do, our policies and job positions.


Strategy Index Guide
The resource for the best articles for the best games. Now with support over 55 games
Strategy Menu
N64

PlayStation
The Sony PlayStation, and beyond...
Nintendo 64
Currently Down.
Dreamcast
The Dreamcast resource, and more. Home of the DC Technical pages.

Icemat Audio: Siberia Headphones Review
reviewed by Falcon

Special thanks to Danny from SoftTrading for providing the Icemat Siberia for evaluation.
HEADPHONE:
Frequency resp: 18-28.000 Hz
Impedance: 40 Ohm
SPL@1kHz, 1V rms: 99 - 104dB
Cable length: 1,0+1,8=2,8m.
Jack: 3,5 mm. + 6,3 mm. converter.
MICROPHONE:
Frequency Response: 80-15.000 Hz
Pick-up pattern: Sensitive uni-directional
1V/P@1kHz: 38dB
Introduction:
Alongside with the humble mouse pad, a good set of audio equipment is often an underestimated part of a gaming arsenal. Additionally, for those who attend LANs or live in any environment where filling a room with loud music (or gunfire from late night gaming) isn't always possible, then headphones are the perfect solution. A set of high quality headphones can even create a competitive advantage over using speakers in FPS and other games where the use of sound can be extremely important.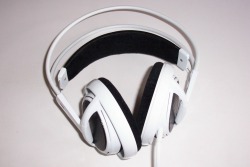 Icemat is famous for their top quality gaming gear – notably mouse pad products, and have recently been branching out into the audio market. The Icemat Siberia headset is the newest product in the Icemat Audio product-line and is designed not only for crisp, high quality audio but also to make somewhat of a fashion statement. It comes with a unique design that is both classy and comfortable while providing superior sound quality.
The Icemat Siberia is a black and white multi headset package that includes open type headphones, a dynamic microphone with a clip that can be attached to your shirt (or taped onto a monitor), and a separate volume regulator. The headphones include a 1m cord that can connect directly into audio equipment such as an MP3 player, as well as a removable 1.8M extension cord that contains the microphone and volume adjustor for use with PC or other audio equipment. There is also a 3.5mm to 6.3mm (1/8 to 1/4) inch adaptor included – which is gold plated along with all the other connectors.
Additionally, the microphone cord can be completely detached and reattached from the main audio cable for separate use or to avoid tangling. The microphone quality is great both for online gaming as well as Internet chat.
The headphones come in a design that is unique and probably unlike anything seen before. What is probably even more important is that they are extremely comfortable to wear, with a padded headband that rests comfortably over the top of the head. The earpads are also padded with a soft black material, and come in a full cup design that completely covers the ears. The inside of the earpads are covered by a thin cloth, with hard plastic behind that is just deep enough not to put pressure on the ears. There is a slightly fragile feel as there is some thin wiring that retracts and expands the headband but with a bit of care that any high quality equipment deserves there shouldn't be any problem.

Onto the testing and conclusion:


An affordable, ultra-portable headphone set.

more