Home
News, and the latest updates.
Archives
Stories from the past...
Submit News
Got a item of interest? Here's the place to go.
Feedback
Your opinion always counts on how we can make GameSurge even better.
Mailbag
Comments on our features, by you, the viewers.

Hardware
Tweaks, reviews and a handy driver index highlight our newest section
Reviews
Looking to buy one of the hottest games? We have it covered.
Previews
Get a advanced look at the games of tomorrow.
Interviews
Find out more about the people behind your favorite game.
Strategy
Need Help? We have a very large selection of walkthroughs now up.
Gallery
A special section featuring the best in artwork and images.

Editorials
The written word, by staff and viewers.
Game Guy
A bi-monthly column contributed by Mark H Walker, an independant writer in the Gaming community.
Gallery
Pictures from around the web.
Hosting
Our current hosting plans and features.
Site Information
Who we are, what we do, our policies and job positions.


Strategy Index Guide
The resource for the best articles for the best games. Now with support over 55 games
Strategy Menu
N64

PlayStation
The Sony PlayStation, and beyond...
Nintendo 64
Currently Down.
Dreamcast
The Dreamcast resource, and more. Home of the DC Technical pages.

No One Lives Forever

reviewed by Ray "Falcon" Lee

System Requirements:
P2 300 or equivalent+
Windows 95, 98, ME, 2000
64MB RAM
400MB Disk space for typical install,
4x+ CD ROM Drive
8MB+ 3D Accelerated card, supporting D3D


No One Lives Forever is a James Bond-esque first person shooter with a twist. Unlike most of today's one-man commando shows, NOLF brings in a wry, witty, and female perspective to the scene. Set in the 60's flower power era, you take the role of agent Cate Archer, a smart mouthed and colorful agent as part of an elite secret service designated "UNITY".

As the organization's first female secret agent you have been typically confined to desk jobs and other routine jobs such as listening in on wiretaps. Now a crisis unfolds in the organisation as a leakage within the organisation is leading to the elimination of many of the "active list" of agents, and you are the last resort and pulled into active field duty, much to the disdain of the chauvinistic administration agents.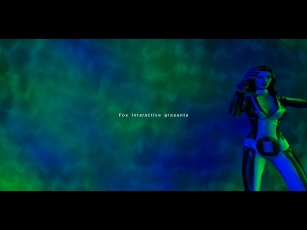 Be prepared to serve in true secret agent style, using stealth and flare, against merciless foes including the H.A.R.M and MISERY organizations in a variety of exotic scenes in the game, from the streets of Morocco, to an army base in Germany, from snowy plains to valleys to busy city streets. There is even a mid air freefall firefight, and an underwater SCUBA fight. Some key villains include a pugilistic Scotsman, a trio of nubile female vixens and a villainously off-key opera Frau, plus hoards of henchmen. During the game hired henchmen have conversations from a discussion about Hannah Arendt's theses of the banality of evil in conjunction with Calamity, to a discussion on criminal sociology (funny!). The accompanying soundtrack, similar to the Austin Powers theme adds a finishing touch to the whole cliché.

The initial mission is to protect an absent minded and stone-deaf ambassador in scenes not unlike the arcade game, silent scope. Your job is to take out several foes, which have picked the ambassador as their target. And in between taking out the baddies you are entertained by the blubbering's of the moronic ambassador who will even mistake a goon you just took out as a drunkard lying on the street.
A lot of the game is plot driven and involves completing set tasks, such as activating bombs or a rendezvous with several agents to put together pieces of a puzzle of information.
Throughout the 15 single player missions there is never a dull moment between the action, from overhearing the enemy's whining or "intellectual" discussions, to your own smart comments towards others. You can also pick up "intelligence" items, which are more often than not useless memos such as the information of the death of an employee who killed himself due to his own stupidity or personal notes between members of the enemy. Picking up all available "intelligence objects" in a game will provide a bonus at the end of the mission such as special ammo for a gun that you use. There are also inventory items (eg a pair of fuzzy bunny slippers - to walk more silently) and weapon add ons (scopes) available throughout the game.
In the James Bond spirit many extravagant gadgets are available in the game, such as a rocket-launching briefcase, a Robotic Poodle which produces attracts other dogs (of either gender!), infrared goggles, exploding lipstick and lethal acid perfume.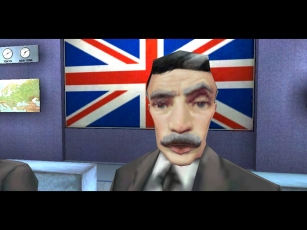 The game uses Direct3D rendering, and offers decent textured environmental details. Unfortunately without antialiasing enabled many objects, such as doors have noticeably jagged edges. The characters also have a plasticine type feel to them, with jagged body joints and overall shape. Several facial and clothing features look like they have been sketched and colored using an artist's sketch and smudge technique. Some guns, such as the AK have a toyish look to them. Even with the head bobbing turned off I felt myself getting a headache after more than 30 minutes of play due to the somewhat lack of smoothness with the way the scenes were rendered.
On the up side the game takes into account environmental damage, such as glass shattering, and provides sounds such as that of bullets lodging into walls or the more metallic clunk from shots into steel. Empty shells are ejected from your guns as bullets are fired, and bullet holes can be evident where you have fired. Even firing onto a corpse will cause a splatter of blood to be ejected.

An affordable, ultra-portable headphone set.

more