Home
News, and the latest updates.
Archives
Stories from the past...
Submit News
Got a item of interest? Here's the place to go.
Feedback
Your opinion always counts on how we can make GameSurge even better.
Mailbag
Comments on our features, by you, the viewers.

Hardware
Tweaks, reviews and a handy driver index highlight our newest section
Reviews
Looking to buy one of the hottest games? We have it covered.
Previews
Get a advanced look at the games of tomorrow.
Interviews
Find out more about the people behind your favorite game.
Strategy
Need Help? We have a very large selection of walkthroughs now up.
Gallery
A special section featuring the best in artwork and images.

Editorials
The written word, by staff and viewers.
Game Guy
A bi-monthly column contributed by Mark H Walker, an independant writer in the Gaming community.
Gallery
Pictures from around the web.
Hosting
Our current hosting plans and features.
Site Information
Who we are, what we do, our policies and job positions.


Strategy Index Guide
The resource for the best articles for the best games. Now with support over 55 games
Strategy Menu
N64

PlayStation
The Sony PlayStation, and beyond...
Nintendo 64
Currently Down.
Dreamcast
The Dreamcast resource, and more. Home of the DC Technical pages.

Enclave Review
Reviewed by Falcon
System Requirements
Win98+
700Mhz + CPU (1.2Ghz Rec)
128MB RAM (192MB Rec)
4x CD ROM
16MB 3D Accelerated Graphics Card (32MB Rec)
Sound Card

Enclave is a fantasy based 1st/3rd person 3D Action game, set in a time long ago, where an ancient battle created a impassable chasm known as the rift, that separated the lands of light against the hordes of darkness.  Over time, the side of light, known as the Enclave grew strong and prosperous, while the evil beings on the other side struggled for survival, with hatred bred strongly within them. Over time, this rift slowly healed, and the gap became small enough to be crossed. It is now that forces of evil have gathered for a major assault to reclaim the land that they sought as their own. You have the opportunity to play in unique missions representing various units from both sides.
NB: The screenshots provided in this review are at noticeably reduced gamma from in the game. The screen capture inadvertently reduced the brightness.
Enclave was originally an Xbox game, recently ported over to the PC. For those familiar with the console version, the major differences include additional save points, updated graphics, and a slightly different interface to accommodate for keyboard / mouse controls. As I haven't played the Xbox version, this review will focus on the game as a standalone PC version without comparisons to the original console version.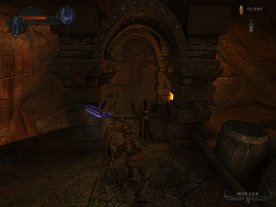 Aside from a fairly standard good vs. evil plot, Enclave sets itself out as a fairly unique 3D action game, with RPG elements blended into it. You have the choice to play in both sides, with a specific perspective of the story unfolding through the missions. At the start of the game, you will start with a specific character class, and as the character progresses through different missions you will gain access to close to half a dozen extra characters. The storyline will remain the same no matter which unit is chosen, but the missions will be of different difficulty depending on the setting and type of enemy units.
There are about 15 missions for each campaign, with a couple of (hidden) bonus levels. Overall there is a little over 10 hours gameplay per side, which will vary based on difficulty level and the time taken to search for hidden treasures.
Enclave uses a unique system for selecting inventory for the character classes. The type of weapons and amour that can be used/worn are character class specific, although there are overlaps. Each mission has a certain amount of gold available to be found in the game, with a bonus awarded for completion of each level.  At the start of every mission, the inventory can be bought, and sold (at the same price), therefore, it is possible to choose and upgrade to the best possible items based on the gold added on from prior missions.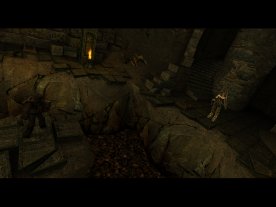 The interface is quite easy to use, and is similar to any FPS on the market. The engine allows gameplay from both 1st and 3rd person view. There are a wide variety of weapons available to use – different classes of weapons, with different grades available at different costs. Also, for items such as the bow, there are several different types of arrows available, including sniper, fire, and grenade arrows. Some arrows can be stacked together so a volley for up to 10 can be fired together.
One aspect that makes Enclave more challenging and interesting to play is that each character class has different strengths for using different weapons. For example, a ranger can hold a dagger for short-range combat, but will do very low damage while using it. On the other hand, a knight and ranger can both use crossbows, but any shots fired by the ranger will cause greater damage.
In addition to this, different weapons can cause different amounts of damage based on the type of enemy, and their armor worn at the time. For example, a sword will cause far less damage to an enemy skeleton than a war hammer, while magical spells will cause varying amounts of damage based on the enemy's resistance.
This deepens the level of gameplay in Enclave, and can make the difference between getting slaughtered and breezing through the same level by using different characters. A Ranger can use a variety of arrows, including sniper (zoom) arrows to pick off enemies at long range, a knight can slash through several grunts at close range, while a wizard can use spells to blast at enemies before they can get close.

An affordable, ultra-portable headphone set.

more