Our latest review here at Gamesurge is the Steel Sound 5H Gaming headphones – the latest product in the Steelpad series aimed at providing the best in gaming accessories.
Steel Sound 5H: Specifications:
Professional Gaming Headset. Pull-out microphone system.
Detachable headband for safe transportation.

HEADPHONES:
• Freq. response: 16 - 28.000Hz
• Impedance: 32 Ohm
• SPL@1kHz, 1Vrms: 110dB
• Cable: 1 + 2 = 3m / 10ft

MICROPHONE:
• Freq. response: 75 - 16.000Hz
• Pick up pattern: Uni-directional
• Sensitivity: -38 dB
• Impedance: 2K Ohm
Overview: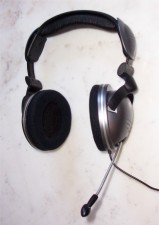 The Steel Sound 5H comes with features and accessories aimed providing the ultimate gaming headphones - from the sleek design, unsurpassed features and functionality, to the flawless gaming sound performance.
Firstly, the design: The shape of the headphones along with the black, silver and grey colour scheme make the headphones look great. The earpads and padded headrest help the headphones sit comfortably over the head for hours on end - not too tight or loose, with plenty of space over the ears.
These headphones also come with more features than you can poke a stick at. Along with the handy adjustable arm height, there is also an extendable microphone that can be slid completely to be hidden into the left earpiece when it is not required. But that's still not all – the whole headset is also detachable into 3 separate pieces, so that it transported safely. The inclusion of a microphone is not only a valuable asset for many of the latest games, it is also useful with the emergence and rapid growth of VOIP capabilities. The headphone cord is around 90cm (3ft) long, and includes a volume adjuster with a clip. There is another 2m (7ft) long extension cord that is available if more length is required.
| | |
| --- | --- |
| | |
Another special feature of the 5H is the USB sound adaptor, with drivers included. For an extra $20 compared to the standard headphones (with no USB soundcard), the adaptor transforms the headphones into a high quality DSP virtual 7.1 set that allows significant tweaking capability, including the ability to adjust the individual channel and decibel output, as well as tweak the equaliser or environmental effects.
I compared the sound output from the USB Adaptor with my Creative sound card. The output quality was not too different, but where the 5H adaptor really stood out was with the virtual 7.1 channel sound – it made a really noticeable difference when it came to playing games. The adaptor would also be beneficial to those who are using lower quality sound outputs such as an inbuilt sound card on a lower end motherboard.

Onto the testing and conclusion: