Steelpad S&S Review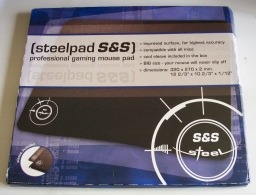 reviewed by Falcon
Thanks to Danny from SoftTrading for providing the Steelpad for evaluation.
Introduction:
The Steelpad S&S (Steel & SK) is one of the latest products in the Steelpad range of high performance mouse pads. This mouse pad was developed in conjunction with SK Gaming, an international eSports team that is endorsed by many major European clans.
The S&S is made from a plastic compound and comes in at a massive 320x270mm (roughly 13x11 inches). Most gamers and professional graphics designers would have experienced the frustration of running out of mouse pad space (usually at the worst times). This pad is definitely big enough to take that problem out of the equation, and hopefully takes us to the end of the "bigger is better" concept… for a mouse pad at least.
As an added bonus the pad comes with its very own carrying pouch, with an extra zipped compartment to hold your mouse/CDs/other bits and pieces. It not only keeps the mouse pad safe but also looks cool - an excellent addition to any LAN arsenal. There is also a "Steel" logo that is stitched on, another testament to the quality of the entire Steel range.
The Steelpad itself comes in two versions – one version carrying an extra "SK" logo on the bottom right hand side of the pad.
| | |
| --- | --- |
| | The base of the Steelpad S&S |
Impressions and information: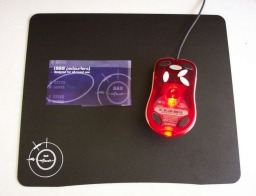 Unlike the other Steelpad products, the S&S does not come with a separate rubber mat as a base, but has a scattered rubbery compound attached across the surface area underneath the pad. Each time I review a Steelpad product I mention how well the pad stays on the table, and once again the designers have upped the ante in quality and functionality. The base provides yet another ironclad grip on the table and passes as the thinnest mouse pad I have ever come across. I can put my wrist across the edge and barely notice its there!
There is also a new range of "Padsurfers", once again bought together by the joint efforts of Steel and SK. Rather than a Teflon based tape that is cut manually to fit over the mouse feet, these new Steel S&S Padsurfers are specifically shaped to fit right over each of the individual mouse feet. Once again, the use of the Padsurfers makes a noticeable improvement to the slickness and overall performance when using the mouse pad.

Onto the testing and conclusion: