Home
News, and the latest updates.
Archives
Stories from the past...
Submit News
Got a item of interest? Here's the place to go.
Feedback
Your opinion always counts on how we can make GameSurge even better.
Mailbag
Comments on our features, by you, the viewers.

Hardware
Tweaks, reviews and a handy driver index highlight our newest section
Reviews
Looking to buy one of the hottest games? We have it covered.
Previews
Get a advanced look at the games of tomorrow.
Interviews
Find out more about the people behind your favorite game.
Strategy
Need Help? We have a very large selection of walkthroughs now up.
Gallery
A special section featuring the best in artwork and images.

Editorials
The written word, by staff and viewers.
Game Guy
A bi-monthly column contributed by Mark H Walker, an independant writer in the Gaming community.
Gallery
Pictures from around the web.
Hosting
Our current hosting plans and features.
Site Information
Who we are, what we do, our policies and job positions.


Strategy Index Guide
The resource for the best articles for the best games. Now with support over 55 games
Strategy Menu
N64

PlayStation
The Sony PlayStation, and beyond...
Nintendo 64
Currently Down.
Dreamcast
The Dreamcast resource, and more. Home of the DC Technical pages.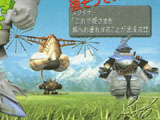 Final Fantasy IX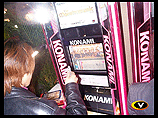 Konami Booth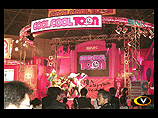 SNK Booth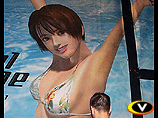 Looks nice, Huh?





PlayStation at the Toyko Game Show
by shiva
The Tokyo Game Show 2000 Spring is a three-day trade event being held from March 31, 2000 through April 2, 2000 at Makuhari Messe (Nippon Convention Center, Chiba-city Chiba Pref.), where 66 different exhibitors are currently showing off their wares. This is the big show for Japanese gamers and manufactors, as this will show the new games to be released for this year.
PlayStation still rules the roost
Despite the Dreamcast and the PlayStation 2 being released, there's still a lot of new PS games being released this year in Japan, and most of these should make their way to North America. There were over 100 new games shown at the Toyko Game ShowThough a lot of games were less than impressive, the big game that drew a lot of attention was Final Fantasy IX. Despite the fact the release date for the game is drawing near, Square decided that a few brief video clips were better than actually demoing the game. Also, several other big games never made it to the show as well, including Evil Dead, Spiderman, Tony Hawk 2, and Driver 2.If you scroll down, you will see only one game listing for Sony, and it's Spiro the Dragon 2. Yeap, it came out last year here, and yes, Sony only showed the one game.
Considering the show put on by Sega this year, it may have not been the best decision on Sony's part. Just one game, for the most dominate system in the world, by the company that produces that system? Geez...Square announced it will release a PlayStation CD-ROM tentatively titled All Square Memory Card Data Collection in Japan. The CD-ROM will contain saved game data from all of the games Square has previously released on the PlayStation. A total of 143 saved data files including a save point right before the final boss in Final Fantasy VIII, all weapons available from the beginning of the game in Parasite Eve 1 and 2, all special moves for Legend of Mana, Prism class weapons in Chrono Cross, all parts and items in Front Mission 3, and many more. Square has not set a release date for the All Square Memory Card Data Collection and has not said whether or not it will release the CD-ROM overseas.(Gamespot)
An affordable, ultra-portable headphone set.

more