Home
News, and the latest updates.
Archives
Stories from the past...
Submit News
Got a item of interest? Here's the place to go.
Feedback
Your opinion always counts on how we can make GameSurge even better.
Mailbag
Comments on our features, by you, the viewers.

Hardware
Tweaks, reviews and a handy driver index highlight our newest section
Reviews
Looking to buy one of the hottest games? We have it covered.
Previews
Get a advanced look at the games of tomorrow.
Interviews
Find out more about the people behind your favorite game.
Strategy
Need Help? We have a very large selection of walkthroughs now up.
Gallery
A special section featuring the best in artwork and images.

Editorials
The written word, by staff and viewers.
Game Guy
A bi-monthly column contributed by Mark H Walker, an independant writer in the Gaming community.
Gallery
Pictures from around the web.
Hosting
Our current hosting plans and features.
Site Information
Who we are, what we do, our policies and job positions.


Strategy Index Guide
The resource for the best articles for the best games. Now with support over 55 games
Strategy Menu
N64

PlayStation
The Sony PlayStation, and beyond...
Nintendo 64
Currently Down.
Dreamcast
The Dreamcast resource, and more. Home of the DC Technical pages.
By Mark H. Walker
Less is More
Fallout, Mission Critical, Shadow Watch, Parasite Eve, Odium, Diablo, Final Fantasy Tactics ĖI can count the games Iíve finished (work aside) on a pair of hands. Killing Diablo with my gaming buddy Brian Boyle, running through a guided missile destroyer -ĖParasite Eve in tow, discovering Cloud in an obscure corner of the Tactics world map Ėthese are my most precious gaming memories.
These games are not, however, the most innovative software Iíve booted, not the flashiest Iíve seen, not even the best Iíve played, but they all have one thing in common. I took the time to learn the game, become the game, and finish the game.
Hold that thought.
A couple issues back Computer Gaming World seriously slammed the not-quite-ready-for-prime-time release of Strategy Firstís World War II Online. I donít blame CGW, WWIIís early release violated the most basic trust between consumer and producer. To wit, ďIf I buy a product, it will perform as advertised.Ē
Unfortunately, CGW blamed the wrong people. The fault lies not with Strategy First, but ourselves. Chew on this... the same issue of CGW ranked World War II Online as one of the ten best selling games in computerdom. Obviously, we donít care how bad a game is. In fact, we canít even wait to read the game reviews. If itís new we MUST have it.
The sales recorded in CGW were bought and paid for long before consumers were warned by reviewers to stay away. You have to think that Strategy First was counting on that. Counting on a culture that tells us we need the newest, the shiniest, the most.
Recall the thought.
What if we played each game to conclusion? Enjoyed every nuance, took our time, worried not about being the first to post, ďIím done!Ē on the message boards. Worried not about having the newest, but rather enjoying what we have. What if there was no rush to buy the latest console, game, or gadget. Wouldnít that make publishers make sure they got it right, right out of the box? Wouldnít it give us the quality products we want?
Who Needs the Game Boy?
I bought a Game Boy Color in 2000. Like everyone else, I had to see what this Pokemon thing was all about. No doubt itís a clever game, but I soon bequeathed the purple gadget to my kids. They loved playing it on trips to the relatives, and it kept them quiet. At first I considered it a blessing, but grew uneasy as the silence lengthened and the spring dogwoods drifted unnoticed by my Luminaís windows. It made me think --a dangerous occupation for sure.
We donít need to live life with our noses buried in a Game Boy (or Game Boy Advance), eyes drilling into our PDAs, or an ear stuck on our cell phone. Iím afraid Iíll miss seeing the girl in the black mini-skirt, hearing a friendís joke, or feeling the summer sun on my skin. We donít need gaming on the go, thereís time enough for that at our computers and consoles. Like it or not, thereís a bigger game to play. They call it reality, and itís more fun than leveling up Pikachu.
Tight Takes
Etherlords plays like a cross between Heroes of Might and Magic (HoMM) and Magic the Gathering (MtG). Heroes explore the HoMM-type strategic map looking for resources and such. When they meet other heroes or unfriendly creatures combat ensues. The skirmishes are like a 3-D version of MtG, and the tactical options are richer than my mother-in-lawís fudge. The beauty of the game stuns me. On the strategic map golems pace through smoky stone portals, fronds bend with the wind, and tiny mine carts orbit their mines. Once combat is joined, lavishly detailed Orc Shamans attack scantily clad heroines.
Folks you have to understand this is turn-based gaming. A genre that has traditionally been a red-headed step child in the visual department. Etherlords is the only thing Iíve witnessed that can rival a Virginia spring.
I promise Iíll play this one through.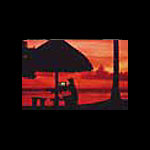 © Mark H. Walker, LLC 2001 Mark H. Walker is a veteran interactive entertainment journalist who has written over 40 books including his recently released Video Games Almanac and The Parentís Guide to PlayStation Games.

An affordable, ultra-portable headphone set.

more