Home
News, and the latest updates.
Archives
Stories from the past...
Submit News
Got a item of interest? Here's the place to go.
Feedback
Your opinion always counts on how we can make GameSurge even better.
Mailbag
Comments on our features, by you, the viewers.

Hardware
Tweaks, reviews and a handy driver index highlight our newest section
Reviews
Looking to buy one of the hottest games? We have it covered.
Previews
Get a advanced look at the games of tomorrow.
Interviews
Find out more about the people behind your favorite game.
Strategy
Need Help? We have a very large selection of walkthroughs now up.
Gallery
A special section featuring the best in artwork and images.

Editorials
The written word, by staff and viewers.
Game Guy
A bi-monthly column contributed by Mark H Walker, an independant writer in the Gaming community.
Gallery
Pictures from around the web.
Hosting
Our current hosting plans and features.
Site Information
Who we are, what we do, our policies and job positions.


Strategy Index Guide
The resource for the best articles for the best games. Now with support over 55 games
Strategy Menu
N64

PlayStation
The Sony PlayStation, and beyond...
Nintendo 64
Currently Down.
Dreamcast
The Dreamcast resource, and more. Home of the DC Technical pages.
GameGuy: The ďRacing SimĒ Edition

(Hint: We donít need another NASCAR Game.)

By Mark H. Walker

I have two great passions: Racing and gaming. In 1965 I saw Jim Clark (deceased Formula One World Champion) blast flat out through Spaís famed Eau Rouge, and I was hooked.† Although my taste in computer games is wider than the racing genre, I have never lost that passion for speed imbued by Clarkís deep green Lotus 33.

Whether the speed is real --ingested at the wheel of my ITB Corolla-- or simulated, matters not. What does, however, matter is the direction the games that simulate speed are taking† --the future of racing simulations, so to speak. Itís a bright future, but that doesnít mean itís a good future. Let me explain.

The crystal ball is easily read. In the coming years weíll see a never ending stream of simulations depicting two types of racing: NASCAR and the FIA Formula One World Championship. No doubt, the games will sell well. Americans buy the NASCAR simulations while the rest of the planet snaps up the Formula One games. Yeah, weíll see the occasional GT3, TOCA 2, Viper Racing, or Sports Car GT, but if you donít like NASCAR or F1, youíll often be out of luck.

Innovation? Not here. Developers will continue to wow editors with better graphics and drivers with supposedly more realistic physics models, but the nature of the beast will remain the same. Hey, I like high-gloss, reflective-paint cars as well as the next guy (or gal), but does it really change the racing experience? And realistic? Puhlease donít talk to me about realistic. Decreasing the surface traction coefficient and making the steering more sensitive does not qualify as realistic. Any coder can make a game impossible to drive.

Case in same-old-stuff point: Grand Prix 4 and Papyrusís NASCAR Racing series. Grand Prix 4 is a solid game; Geoff Crammond has once again hit the game-engine sweet spot, making the Ferraris, Jordans, and McLarens a joy to pilot. The graphics, while not stunning, are at least pleasing. But thatís it, Grand Prix 4 feels like an updated version of Grand Prix II, nothing more. Nothing new.

By the same token, NASCAR 4 (or is it version 5 or 6? Iíve lost count) is little more than a prettier version of the original NASCAR Racing. I respect Dave Kaemmer; he is arguably the finest racing simulation coder/designer in the history of gaming, but Papyrus needs to give NASCAR a rest.†

In essence, racing simulationís bright future is the same old wine in a brand new bottle. The game boots, the gamer chooses practice, single race, or championship season, and the game plays. The cars are a bit more appealing than the gameís predecessor, but little else has changed.

But what of the other future, A.K.A. that good future? Iíve seen it, and it lives in games such older games as Monaco Grand Prix Racing 2, Dirt Track Racing, and NASCAR Heat. The good future consists of racing simulations that eschew either the tried and true NASCAR/Formula One series or† present it in a unique manner, or both.†

Yes, Monaco Grand Prix Racing 2 is another Formula One game, but it includes more options than a neophyte long-distance phone company. At the top of the list are the gameís scenarios. Why practice, qualify, and race when you can hop into the seat and drive a scripted scenario? These mini-races run the gamut, from helping a teammate win a championship to fighting off the competition on the final lap. Theyíre new, creative, and most of all, fun. Similarly, NASCAR Heat offers not only its Beat the Heat challenge scenarios, but Race the Pro, which allows gamers to pit their skills against actual hot laps laid down by Winston Cup drivers. On the flip side of the coin, Dirt Track Racingís strength is its subject matter. Where else can you get the luscious feel of sliding sideways through the dirt at darn near 1000 miles per hour?

Unfortunately, we wonít see many unique racing venues from major publishers in the coming years. There isnít a fan base to support it. What we can hope to see is a new face on the simulations we buy. A face that includes scenarios, laps against real pros, and other as of yet thought of innovations. The days of slapping 200 new pixels, a slightly enhanced physics engine, and the latest tracks into a box and calling it new are drawing to a close. Letís merge racing simulations bright future with its good future and make a great future for gamers and publishers alike.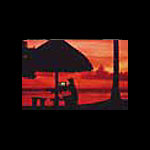 © Mark H. Walker, LLC 2001
Mark H. Mark H. Walker is a veteran interactive entertainment journalist who has written over 40 books and designs games including his soon to be released Lock Ďn Load


An affordable, ultra-portable headphone set.

more