Home
News, and the latest updates.
Archives
Stories from the past...
Submit News
Got a item of interest? Here's the place to go.
Feedback
Your opinion always counts on how we can make GameSurge even better.
Mailbag
Comments on our features, by you, the viewers.

Hardware
Tweaks, reviews and a handy driver index highlight our newest section
Reviews
Looking to buy one of the hottest games? We have it covered.
Previews
Get a advanced look at the games of tomorrow.
Interviews
Find out more about the people behind your favorite game.
Strategy
Need Help? We have a very large selection of walkthroughs now up.
Gallery
A special section featuring the best in artwork and images.

Editorials
The written word, by staff and viewers.
Game Guy
A bi-monthly column contributed by Mark H Walker, an independant writer in the Gaming community.
Gallery
Pictures from around the web.
Hosting
Our current hosting plans and features.
Site Information
Who we are, what we do, our policies and job positions.


Strategy Index Guide
The resource for the best articles for the best games. Now with support over 55 games
Strategy Menu
N64

PlayStation
The Sony PlayStation, and beyond...
Nintendo 64
Currently Down.
Dreamcast
The Dreamcast resource, and more. Home of the DC Technical pages.
GameGuy: The "Keep Your Online Gaming" Edition
By Mark H. Walker
Don't blind me with science, especially that of the statistical persuasion. There are 85,155 folks gaming The Zone as I write this, and 57, 879 players playing Everquest. But who cares? I haven't played online this year, and gaming is my job. Strong marketing and a deluge of massively multiplayer online games announcements bombard our senses, and if gaming pundits are to be believed, the Internet and online gaming will soon become the Mecca of all things game.
But me? I'm not quite ready to face east and bow before the new religion. Although online gaming's future is bright, it is not a blinding nova that eclipses the remainder of the gaming world. Yeah, fragging a wise ass from Great Britain is sweet, and the alternate reality of a persistent online universe is enthralling, but online gaming doesn't quite stack up to its elder, single player brother. Hence Internet gaming will continue to grow with the gaming community, but it will never dominate the industry. Here's why.
Why number one: Convenience. Of course I know online gaming is 7/24, but my gaming comes in spurts –a half-hour before I get the kids up for school, an hour after I put them to bed. It takes 5-10 minutes to hook up to Gamespy, enter a room, and pick up a game of Kohan --let alone play the dang thing. Conversely, I can resume my Kohan saved campaign in a couple of minutes and play till the instant before reality calls me back to parenthood.
Why number two: Story. People want story, they want their games to sweep them off their feet and toss them into a new, fantastical world. In most cases it takes a single player experience to craft that story. Blasting opponents in Quake II's Tokay Towers may be fun, but it doesn't give the player a beginning, middle, end, plot surprises, and character development –in other words, all the components that make a good story. Yes, it creates a universe –-as does Everquest, but the universe lacks a sense of movement toward ultimate climax and finish.
That climax/finish leads to why number three: Completion. Despite what the wife says about my garage, humans are an orderly species. We like to finish what we start, and often only start projects that we know we can finish. Despite its immense size, Baldur's Gate II will end (if you can stay awake long enough), Asheron's Call will not. Playing the Call forever provides no completion, just a boss character.
And you won't even build that boss if you have a poor connection. Ever tried to frag someone using a cable hookup when you are puttering about with your meager 28.8 dial-up connection? Nevertheless, according to recently published statistics, the most common web speed connection is 33.6, followed by 28.8. Thanks, but no thanks, I'll play Unreal Tournament against the 'Bots. At least the lag won't kill me.
For those of you counting, that brings us to why number five... rudeness. I hate rude people, and I bet you do too. Yet between the P-killers and jerks, immature whiners and loudmouths repeatedly typing "LISTEN TO ME," Internet gaming is laced with downers. Like anywhere else, most Internet people are nice, considerate and even kind, but the idiots are plentiful enough to ruin the best gaming experience. Yet that's a ruination absent from offline gaming.
Online gaming has a place in our world, and it will continue to grow and prosper. From the publishers point of view online gaming is a serious cash cow, but Internet play will not dominate the future of our industry. Solo gaming's combination of convenience, story, and sense of completion, will make it the choice of the majority of gamers --gamers that don't want to hassle with buying a cable connection or online rudeness, gamers that don't care what statistics say, gamers who just want to have fun.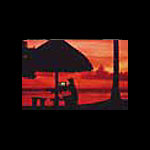 © Mark H. Walker, LLC 2001
Mark H. Walker is a veteran interactive entertainment journalist who has written over 40 books including his recently released Medal of Honor and Wizardry 8 strategy guides
An affordable, ultra-portable headphone set.

more