Home
News, and the latest updates.
Archives
Stories from the past...
Submit News
Got a item of interest? Here's the place to go.
Feedback
Your opinion always counts on how we can make GameSurge even better.
Mailbag
Comments on our features, by you, the viewers.

Hardware
Tweaks, reviews and a handy driver index highlight our newest section
Reviews
Looking to buy one of the hottest games? We have it covered.
Previews
Get a advanced look at the games of tomorrow.
Interviews
Find out more about the people behind your favorite game.
Strategy
Need Help? We have a very large selection of walkthroughs now up.
Gallery
A special section featuring the best in artwork and images.

Editorials
The written word, by staff and viewers.
Game Guy
A bi-monthly column contributed by Mark H Walker, an independant writer in the Gaming community.
Gallery
Pictures from around the web.
Hosting
Our current hosting plans and features.
Site Information
Who we are, what we do, our policies and job positions.


Strategy Index Guide
The resource for the best articles for the best games. Now with support over 55 games
Strategy Menu
N64

PlayStation
The Sony PlayStation, and beyond...
Nintendo 64
Currently Down.
Dreamcast
The Dreamcast resource, and more. Home of the DC Technical pages.
GameGuy: The "Law and Order and Government" Edition
By Mark H. Walker
Road Trip
It will soon be easier for North Carolina's Red Storm to collaborate with Massachusetts' Papyrus on future games. Not that the studio that brought us Ghost Recon would ever want to work with the kings of round track racing (NASCAR 1-4),  but the Virginia Department of Transportation (VDOT) has decided to give them a hand just in case. At least if the Red Storm folks want to drive through Virginia enroute to Boston.
VDOT has decreed that the territory needs a new interstate. The asphalt and its attendant Wal-Marts, Burger Kings, and 7//24 Quick Marts, will uproot hundreds of thousands of Virginia's White Pines, Red Maples, and majestic oaks. But who cares? Running through the mid-western section of the land, VDOT claims I-73 will replace/augment existing Highway 220, expedite travel, and alleviate traffic concerns. Problem is... there are less cars traveling Highway 220 than honest Olympic judges in Utah. The Army Corps of Engineers surveyed the situation and claimed existing roads were sufficient. Nevertheless VDOT intends to lay the road. Can't blame them; construction looks like progress, progress smells like money, and money talks. It's just a shame the trees have to walk.
A Rose by Any Other Name
Speaking of talking money, how about that State of Emergency (SOE)?  It's selling like hotcakes and putting a large fecal ingesting grin on the savvy folks at Rockstar. Savvy is a good description, their public relations folks branded SOE the world's first riot game... avoiding the obvious, and more accurate label –terrorism. Still, I don't know a better description than terrorism for a game that has you bombing innocent people. Nevertheless, it sells well. I just wonder how many copies they've peddled to Ground Zero at the WTC, Army Special Forces troops, or Daniel Perl's widow...  
Georgia Peach
Bo Jackson was the only good thing to come out of Georgia. Well, at least until now. Earlier this month four Georgia lawmakers proposed the Violent Video Game Protection Act. Bottom line, the bill makes it illegal to sell certain games –you have to be thinking it means the ones with "Mature" ratings—to kids under 18. The message is simple: If you want to make games with gratuitous violence, go ahead. On the other hand don't expect to sell them to droves of eleven year olds.
No doubt this will promote more whining than California's vineyards. You mean you expect us to write GOOD games?  The developers will say. Damn, it was much easier to splash some blood on the screen and sell the gross-out factor.   
I think it's a good thing. The bill that is, not the whining (It's never pretty to see grown men whine). If you can't sell the crass, vulgar, and disgusting you may have to actually promote the clever, intriguing, and fun. Like maybe a collaboration between Red Storm and Papyrus. NASCAR Recon anyone?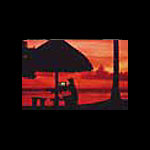 © Mark H. Walker, LLC 2001
Mark H. Walker is a veteran interactive entertainment journalist who has written over 40 books including his recently released Medal of Honor and Wizardry 8 strategy guides
An affordable, ultra-portable headphone set.

more